I have been spinning for a specific Ravelry project. There is a design challenge in one of the groups that I was following. I wasn't participating but just following along, inspired by the creativity I saw there. I finally got up the nerve to post a comment on the fan page and was invited, along with a few others, to participate unofficially in the challenge. What fun it's been! A lot of thinking, planning, test spinning and a bit of fiber purchasing has been involved.
We were supposed to
design a collection of three yarns - all inspired by a masterpiece painting of our choice. I chose this Cezanne painting - The great pine. It looks like a windy day, possibly stormy sky, which I love to see (as long as I am not out on the boat) LOL. The colors are very saturated. I love the feeling and the colors.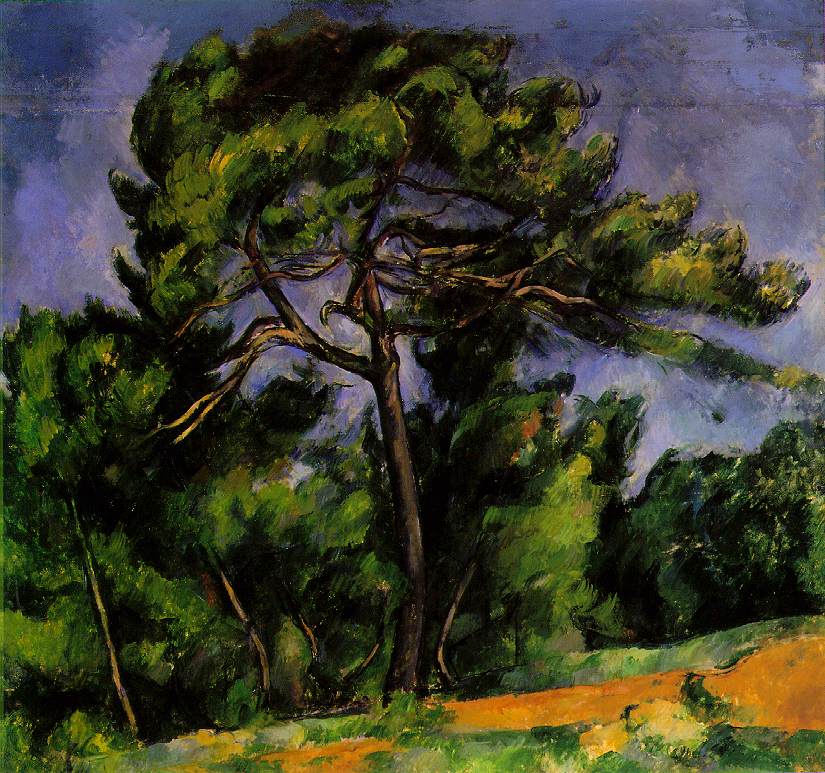 I took these two fibers (Gulf coast native, dyed by me)
(mystery wool, over dyed by me)
and spun them, one on the wheel and one on the spindle. I plied them together, two plies of the gulf coast native and one of the mystery wool to get this 3 ply yarn. This color is a bit lighter than the actual yarn.
Which, when knitted up, looks like this. This color is pretty accurate.
It bloomed in the wash and was heavier than I thought it would be. Being a 3 ply, it has great stitch definition and I like it best with large areas of stockinette and just a bit of cabling or texture.
Next, and here is where the purchasing came in, I took a selection of these locks
blended them on my hackle to get this
and spun them to get these yarns. These yarns represent the sky to me. This one a bit smoother, though fluffy and light, like clouds,
and this one, a bit more thick and thin also like the clouds in the sky.
Then, for the tree trunk and foreground of the painting, I took brown alapaca and some painted locks that I had drum carded at the spinning retreat last year
and spun it into an uneven singles.
I am not sure yet whether I will ply it on itself or whether I will comb some of the orange/gold locks and use that for the second ply. More sampling ahead.